Continuous operation of a turbocharged engine with low-quality oil, engine overheating, incorrect vehicle operation, run with the oil without change over the period recommended by the manufacturer — all of the above can often result in increased consumption of motor oil through the turbocharger.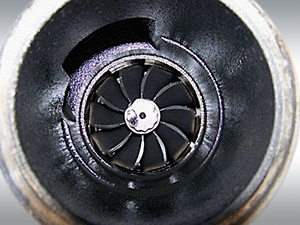 Probable reasons / Recommendations
The main reason for oil consumption through the turbine is wear of bearings of turbocharger supports and seals (rings).

Treatment of an engine with Revitalizant®:

The restoration effect can be observed on the sliding bearings of a turbocharger (restoration of initial clearances in case of non-critical wear). The compound does not impact the impeller and the turbine blade.

Contamination of the oil system, use of low-quality oil can also lead to wear of bearings of turbine supports.

Before treatment of the engine with Revitalizant® it should be cleaned with Vita Flush Oil system cleaner.
Change the oil and replace the oil filter.
Note
It is not advisable to shut down the turbocharged engine immediately after the stop. The oil cokes on the turbocharger supports which can lead to their wear by further operation. If the engine is not equipped with a turbo timer, it is recommended to install such device.