Best choice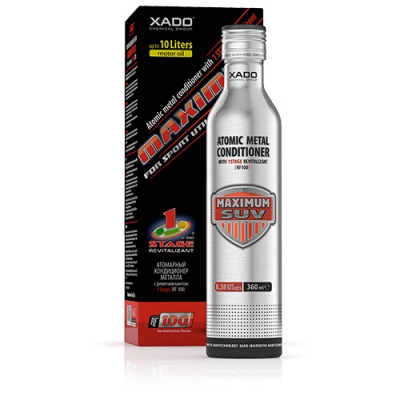 Atomic Metal Conditioner Maximum SUV with 1 Stage Revitalizant
Multifunctional oil additive Atomic metal conditioner MAXIMUM FOR SUV (Sport Utility Vehicle) with 1 Stage Revitalizant.
It's an innovative 3-component new generation product, which combines advantages of two-phase complex metal conditioner and 3-rd generation Revitalizant.
A three component formula of the compound provides simultaneous restoration eff¬ect of the worn parts, their antiwear protection, super high anisotropic oil mobility between parts. Specially designed for engines of four-wheel drive automobiles with station wagon body type.
Restores surfaces of parts and compensates current wear
Levels and increases compression in cylinders
Increases pressure in oil system up to the nominal one
Creates the active system of parts protection from loads and overheating
Reduces noise and vibration level
Improves oil lubricating properties and tribological characteristics of engine assemblies
Increases service life of an engine
Reduces fuel consumption
Increases engine capacity and acceleration capability
Guarantees engine antiwear protection for 60,000 miles (100,000 km) of run
Technology and certificates
Application
The temperature of the compound before application shouldn't be lower than +25 °C. Shake the bottle. Introduce the compound into the oil filler neck of the engine, warmed up to the operating temperature. Start the engine and provide its idle operation for 3–5 minutes.
Dosage
1 bottle (360 ml) for the engine with the oil system capacity of up to 10 L. Oil level should not exceed the maximal level of dipstick. Avoid overdosing!
Note:
Specially designed for engines of four-wheel drive automobiles with station wagon body type. Compatible with all types of motor oils. Revitalization takes place during 1,000–1,500 km (600–900 miles) of run. It is not recommended to change oil during this period. Granules of atomic Revitalizant are completely dissolved in motor oil under operating temperature.
Pack
Bottle 360 ml XA 42015